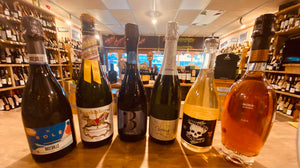 Feel fine with fabulous fizz
Hello, 
In the words of Eddie and Patsy (I am not Absolutely Fabulous so won't compete with them) Bolly Sweetie Darling!
Well not quite Bolly for us, as we prefer to choose our fizz based on character and personality rather than name. We have always carried a range of fizz, from a Pignoletto Frizzante (you may remember this was my Christmas day morning drink from two years ago), through Cava and Prosecco to Champagne. We even carry local sparkling Pefriog (blanc and rose) from Gwinllan Conwy.
Our own Ab Fab Tim (I'll leave you to choose if he is Eddie or Patsy) has always wanted a balance, a fizz for all occasions. Which is why occasionally we will get an interesting sparkling red to push some boundaries.
There is so much fizz on offer these days that it can be an everyday drink for us all, but with the ability to stretch price and quality if needed. Personally, I like nothing better than a chilled bottle of fizz, in the garden on a summer's afternoon with a grazing platter of meats, cheeses and fruits. It's also my go to welcome drink for when friends arrive for a visit (remember when people could stay over – soon it will come again).
We challenged Tim to order in some new fizz, in the hope we all have good times on the horizon and a perfect excuse to break them out. As always he didn't disappoint and we have some stunners on offer
Bole Bianco, Spumante Brut, Romagna DOC, ITALY.
Lively sparkling wine from Emilia-Romagna, brimming with green apples, Conference pears and lemon zest, the nose a delightful blend of jasmine blossom, elderflower and citrus.
Sparklehorse, Ken Forrester Wines, SOUTH AFRICA.
Traditional Method, or known in South Africa (Cap Classique) this creamy and delicate Chenin Blanc fizz is bubbling with apple, pear and quince notes. We all love a bit of Sparklehorse!
Prapian Estate, Asolo, Prosecco Superiore Brut, ITALY.
The New Prosecco on the Block. Beautifully fresh offering delicate aromas of green apple with subtle floral notes of acacia. Fruity and floral flavours carries the delicate bubbles across the palate through to a light, fresh finish.
'Divina' Cava, Pere Ventura, SPAIN.
Pere Ventura Family Estates have a view to producing the finest estate Cavas in the heartland of this multi-regional DO, Sant Sadurni d'Anoia. This is a smart, fresh Cava, fizzing with green apple, honeycomb and a squeeze of lemon. Delish!
'Wines of Anarchy', Trebbiano, Pet Nat Frizzante Organic, ITALY.
Sparkling Trebbiano from Abruzzo in central Italy, enjoyably perfumed with almonds and white flowers, with flavours of honey and roasted hazelnut. Perfect with sharing platters, tapas, cheese and charcuterie boards. Awesome with Mexican food, especially tacos!
'Nuria Claverol', Brut Reserva Pinot Noir ROSÉ Cava, SPAIN.
Red fruit aromas, touches of ripe cherry, strawberry and ripe plum. It is fresh with fine, elegant bubbles. This is the perfect cava for an aperitif. Its rosé structure means it can accompany all kinds of dishes: stews, fried food, pasta, smoked foods.
Fizz isn't just to celebrate, or for Eddie and Patsy. With tasty great value fizz you can enjoy it whatever the occasion. Right now the most important reason being simply to treat yourself. 
See you soon.
Tim (Eddie), Mark, Pete (Patsy), Ant, Huw, Blu
---