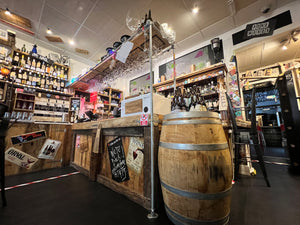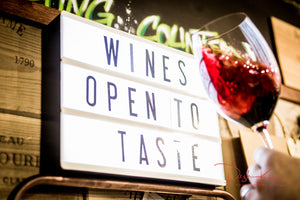 Our shop is not like other wine shops. It is set out to help people explore what they do and don't like. It enables people to find new things to try. No categorisation by price, country or grape varietal. Our layout is logical, and far easier to find something to your tastes.

Under a 1/4 OF THE SEATS (one table for 6, one for 4, and two 2's,) are bookable for groups/parties and events!!!
The rest of the seats are Available for WALK-INS, enabling a fair spread of group bookings and 'walk-ins'.

We are NOT a 'RESERVE SEATS ONLY' premises/space, our 'booking system' just 'ENSURES' your seats, that if you are a group or party…… YOU GUANRANTEE YOUR SPACE.xx..
You can also hire out the whole space for a 'PRIVATE EVENT', just call us to arrange and check availability.
Taste/Share/Enjoy!

Drop in and see for yourself;)

WE ARE TGTG, YOU ARE TGTG!

🍇🍇🍇🍇🍇🍇🍇🍇🍇🍇🍇🍇🍇🍇🍇🍺🍺🍺🍺🍺🍺🍺🍺🍺🍺🍺🍺🍺🍺🍺
🥂🥂🥂🥂🥂🥂🥂🥂🥂🥂🥂🥂🥂🥂🥂🍷🍷🍷🍷🍷🍷🍷🍷🍷🍷🍷🍷🍷🍷🍷🍾🍾🍾🍾🍾🍾🍾🍾🍾🍾🍾🍾🍾🍾🍾🥃🥃🥃🥃🥃🥃🥃🥃🥃🥃🥃🥃🥃🥃🥃👍🏻👊❤️